Read Time:
2 Minute, 57 Second
Congratulations! You've made it to the end of the week.
Whether it was productive, or just another week of counting down to the Easter break, we hope it was a good one for you.
Now onto your next challenge: getting through the weekend.
Luckily for you, we've selected three of the best things on streaming services for you to watch this weekend.
Fresh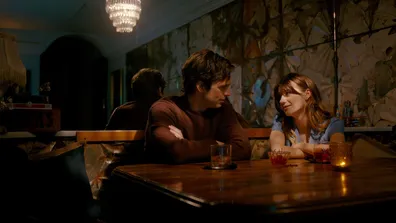 What: Fresh follows Noa (Daisy Edgar-Jones), who meets the alluring Steve (Sebastian Stan) at a grocery store and — given her frustration with dating apps — takes a chance and gives him her number. After their first date, Noa is smitten and accepts Steve's invitation to a romantic weekend getaway. Only to find that her new lover has been hiding some unusual appetites.
READ MORE: A closer look at everything coming to Stan in March
Noa wakes up in captivity, chained to the ground. Steve explains that he is a butcher of human meat, and that he harvests womens' body parts and sells them to wealthy clients for consumption. He notes that he will keep her alive as long as possible in order to keep her "meat" fresh.
Fresh is a bonkers new film that delivers surprise after surprise that will keep you guessing right up until the very end. Tastefully full of gore, violence, and suspense, Fresh a must-watch.
When: Watch now.
Where: Disney+.
Lizzo's Watch Out For The Big Grrrls
What: Lizzo, is an American singer, rapper, songwriter and flutist. She attained mainstream success with the release of her third studio album, Cuz I Love You, which spawned the singles "Juice" and "Tempo", and lead to her 2016 single "Good as Hell" becoming a viral hit, topping the US Billboard Hot 100, years after its initial release.
Lizzo followed her music career with acting. She starred in the 2019 crime comedy-drama film Hustlers alongside Constance Wu and Jennifer Lopez. She also served as a voice performer in the animated film UglyDolls.
Now Lizzo is on the hunt for the next big thing.
In a brand new reality series, she is looking for confident, badass women to join her world tour. Only the most talented dancers will have what it takes to twerk it out on world stages with her and join in the ranks of the elite 'big grrrls'.
When: Watch now.
Where: Prime Video Australia.
Survivor (Season 42)
What: You can't talk about reality television without talking about Survivor US.
The show, which premiered in May 2000, has remained a hit series for over 21 years, clocked 40 seasons and has spawned over 50 international versions as well.
This year, Survivor's 42nd season has a back-to-basics approach. It's ditching returning players and season-long twists in favour for a condensed version of the game we all love. Traditionally, a game that is 39 days long has been trimmed down to just 26 days.
READ MORE: Everything you need to know about Survivor Season 42
For such a long-running show, Survivor doesn't miss any punches. It's 42nd season is just as compelling as the first, with new twists and turns and players who are determined to win $1 million (USD) and the title of Sole Survivor.
This season's cast includes therapist Tori Meehan, pageant coach Romeo Escobar, executive recruiter Chanelle Howell and fitness consultant Drea Wheeler.
When: Watch the first three episodes now. New episodes air Thursdays 7.30pm on 9Go! and 9Now.
Where: 9Now.